Kmart Layaway
Sept. 19, 2017 update: Kmart has launched its 2017 layaway season with a new $1 down layaway program for Shop Your Way members — a free-to-join card-type membership. (Those who don't wish to join can still participate in the regular $10 down layaway plan.) There's also a "Fab 15" list of hot toys that Kmart deems especially suited to layaway such as: Nerf guns, Barbies, Hatchimals, Hot Wheels sets, Imaginext Fisher Price toys, LOL Big Surprise dolls, FurReal stuffed animals, and an AirHogs drone.
Sept. 19, 2016 update: Again this year Kmart will offer layaway with no money down in-store, and a penny down online. The layaway program is available through Nov. 26. The terms are similar to last year, except the cancellation fee is always $10. Also, 25 percent of the original balance due must be paid every two weeks until it's paid off.
Sept. 10, 2015 update: Kmart has announced two new payment options for the 2015 holiday season: no money down layaway, and a no money down leasing program. There is no minimum purchase for layaway. Online layaway will actually require buyers to put up one penny as a down payment. The "leasing" program, which has age and income requirements and sounds much like credit, lets buyers take home an item (from toys, electronics, furniture, and a few other categories), but they won't need to make a payment right away. However, "lease" purchases must be paid off in 30, 60, or 90 days and Kmart will tack 5%, 8%, or 10% onto the price. Both programs will be available through Nov. 29, which includes Black Friday, the day after Thanksgiving. There are also coupons available for purchases set aside as part of a Kmart layaway contract. There is a cancellation fee of $10 to $20, and the service fee of $5 to $10 is still listed as a condition as well.
Dec. 17, 2014 update: There have been reports of Kmart, and perhaps Sears, canceling shoppers' layaway purchases because the stores failed to physically hold back the selected items and now they are out of stock. Now, some customers are having to wait days or longer to get their already-made payments and fees refunded so they can have that cash to purchase replacement gifts — if they can even find them in stock. It's frustrating, as reported in a post on Consumerist.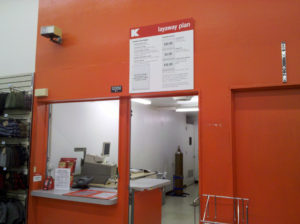 Sept. 21, 2014 update: Kmart has announced "no money down" layaway for the 2014 holiday season. Kmart's layaway policy is similar to that of Sears, though the cancellation fee is lower at $10 and the value threshold for 12-week contracts is lower ($300). Eight-week layaway is also available. Payments must be made biweekly, but customers may pay online.
Sept. 12, 2012 update: Following closely in the footsteps of Wal-Mart and Toys R Us, Kmart announced Sept. 6 that it will drop layaway fees for a limited time, and is expanding the categories of items that may be placed on layaway.
Kmart will waive its usual layaway fee ($5 for 8-week layaway; $10 for 12-week) through Nov. 17, 2012, and company leaders are considering extending it even further, Sears' Holdings VP Jai Holtz told USA Today. The $10 penalty for cancelling a layaway purchase still applies. Twelve-week layaway is only available for purchases over $300. So far, Sears is only waiving layaway fees for a one-week period ending Sept. 15.
***


Unlike Walmart, which did away with layaway in fall 2006, Kmart, which is owned by Sears, Roebuck and Co., has embraced the concept for more than 40 years. The company is even making layaway a major part of its 2008 holiday season advertising campaign, promoted by mascot Mr. Blue Light.
The program originally re-launched with a layaway term of eight weeks, but in 2010 a 12-week option was added. Buyers must put 10 percent of the purchase price down (minimum $10 2010 update: It's now $15), plus pay a $5 nonrefundable service fee ($10 for 12-week layaway). There is also a $10 cancellation fee assessed ($20 for 12-week) if you decide not to buy the items after all. The payment schedule is biweekly and the payments are for 25 percent of the original balance due. "Price adjustments" are limited to one per layaway term, and prices may not be changed for holiday merchandise.
As of October 2010, the terms for 8-week layaway are: $5 service fee, $10 cancellation fee, $15 or 10% down — whichever is greater. Payments are made in four installments, based on the balance due after down payment. The terms for 12-week layaway are: $10 service fee, $20 cancellation fee and $30 or 10% down. There are six payments on the 12-week plan.
Holiday decorations must be paid for or returned to the sales floor by Dec. 5. Home electronics costing more than $200 can't be placed on layaway after Nov. 16. No new items may be placed on layaway between Dec. 12, 2008 and Jan. 2, 2009. (In future years, similar restrictions are presumed to apply.)
Some items can't be placed on layaway, such as personal computers, food, plants, magazines, prescription drugs, cell phones and processed photos or Portrait Studio pictures. (Summer 2010 update: While Kmart's rules still exclude personal computers, Sears does not list those products on its list of items that can't be placed on layaway. Shoppers are advised to look online and see if the product they want has a little "layaway" icon next to it.)
You can read the Kmart layaway policy in full at the store's Web site.